We have BIG changes happening here!  No, we don't have funding yet. But what we do have is BIG news for us!  Our 2011 Beta Test revealed a terminal bug with the Visions build we were developing. We had to make some heavy decisions.  The problem was so severe that we were faced with the decision of  a severe rollback of code that would result in several months (if not years) of development setbacks to try to fix the bugs (knowing it might not work), or switching game engines, or shutting down the Visions project entirely.
After 8 years of development, and 5 engine upgrades that had resulted in total rebuilds of the world during that time, starting over was not our favorite idea.  We experienced some very dark days. We prayed a lot. We asked other people to pray for us. God answered our prayers.
In December we began an evaluation of Hero engine. It seemed positive at first but as we got a deeper look into operations, we encountered some serious issues.  Then in January we had an opportunity to get a BigWorld license drop into our lap.  One of our developers who had been away from the project for a while returned to us, and donated the money for a Bigworld Indie license. Bigworld lets us do pretty much everything we wanted to do. It definitely lets us do more than our last engine allowed.  For the first time since we started working on Visions in 2003 we can create truly seamless terrains.  And we have an engine that can handle very large terrains.
The first zone we are working on is the Paphos and Kourion region of the island of Cyprus.  These are the historical 2nd century names for the area, as we are building the ancient world of the Early Church, not the modern world.  As we expand development we will include the entire island of Cyprus, Asia (modern-day Turkey), Syria, Israel, and hopefully we will be able to include Egypt and Italy as well. The goal is to be able to create sufficient content that players can experience what life was like for early Christians during the time of the Roman Empire. And if all goes as planned, a player will be able to experience a virtual pilgrimage and walk or take a boat from Jerusalem to Rome, just like Paul did, or to travel from Nazareth to Bethlehem to Egypt like Mary and Joseph did when Jesus was born.
We have a lot of work ahead of us. We have a tremendous volume of content to create for all these cities and wilderness regions. And we still need more people to come on board to help us. But we have the best game engine in the industry designed specifically for the task of creating massive worlds for online games at our fingertips.  More than ever before, with the BigWorld engine at our disposal, we have the best chance possible to create Visions according to the originally intended design. It's very exciting!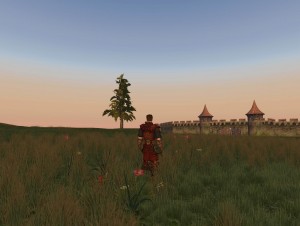 And what's more, BigWorld has already built in a tremendous number of features that we had never completed on our to-do list for our previous engine.  So even though we had a setback in starting over with a new engine, we have actually gained a wonderful advance forward in our goals.  We do have to completely rebuild the terrain (which has been done for Kourion now) and we have to export all of our models to the Bigworld engine format, which is somewhat of a daunting task. But the server code already works! The login works (although it needs some tweaks before we can release it live). Character creation partly works. Chat works. The mouse and keyboard controls work.  Swimming works. Combat works. And there is even some pre-written code for merchants available to us, as soon as we get our NPC's working in the game. (It comes with orc NPCs, which clearly are not appropriate for Visions, so we have to work on the NPCs.) It has both a male and female human avatar available. The day-night cycle works. Weather works. Inventory works even! There really are a lot of things that are very exciting about Bigworld, and we're having fun working with the new tools. My personal favorite feature so far is that grass automatically grows everywhere I paint it onto the terrain. We always had to plant grass by hand before. So this is really exciting.
We are still planning to open the Visions Beta sooner than later. We want to get players in the game as fast as possible. Currently we do not have an ETA. We're still learning the ropes of this new engine and have to figure out some of the finer details. But we will be opening the server to players before we finish the content for the whole world. We hope you will stay tuned and keep watching our progress for announcements.
Thank you for praying for us. Thank you for supporting us. Thank you for your encouragement. It has helped us get to where we are now. If you know Python, or are interested in worldbuilding, or if you have a 3dsMax license and would like to help us, please apply online!  God bless you.