(Warning: some blood)
We've been home from CGDC almost 2 weeks now. Catching up from all the busyness takes a while! And with temperatures being reported in the 104-107 range for the valley, I'm sure glad the conference is over! It was cooler on campus this year and we were all very thankful for that. It was a roller coaster event this year at the Christian Game Developers Conference. Some ups, and some downs, some fast turns, and maybe even a loop-the-loop there in the middle, but overall it was a memorable experience. Laurene's arrival started out on a sour note as the campus Security Guard decided to yell at her personally on behalf of the entire conference being there without consulting his schedule first. Apparently he missed a memo. Charlie returned from his errand and handled the situation expertly to get it all sorted out. Then Thursday was an all day Game Design workshop hosted by Thomas Henshell from Canada. It was an interesting way to get to know people in a very hands-on way, while picking up some fun game design tips along the way.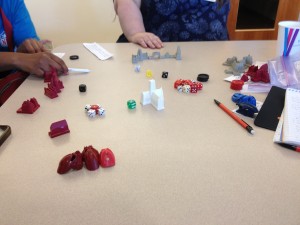 Friday and Saturday returned to the normal schedule of talk sessions and shared meals together. The internet connectivity at the site was less than stellar and we had a very difficult time keeping the computers online long enough to demo Visions to the attendees. The group photo was taken Friday on the front steps of the college.
It was great to see old friends again, and make new friends. When we attend the Christian Game Developers Conference there is of course the professional level that we are there for, to make business contacts, and learn more about making Christian games from like-minded developers. But the thing that keeps us coming back every year is family. CGDC feels like our family. We can talk about our lives and livelihoods without having to go into a long explanation of what its like to make games. They already know. They're making games too. We don't have to talk about the struggles of marketing Christian games. They already know. They're trying to sell their games too. We don't have to go into detail about the difficulty of balancing the rest of life with game development. They already know. They are juggling the same balancing act in their lives too. It's the only place in the world where we can go and talk to other people who understand the gravity and the calling of making games for Jesus on such a personal and intimate level that we don't have to say too much, we just know.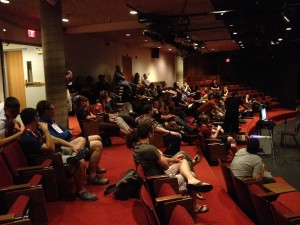 We pray for each other. We encourage one another. And one especially dear friend even helped Laurene wash her bloody toe in the sink after she managed to cut her foot on a carpeted step (ok so there was a metal vent hidden on the face of the step, but still, no one else cut their foot on it!).
We are more than just a game developer conference, with tech talks, game demos, and business meetings (we have those too!). We are brothers and sisters in Christ working in an extraordinary field to make games for God, and that is a really special thing that keeps us coming back year after year. Our team formed an alliance with Kyle Garner from the MegaWorlds Studios team this year, helping each other with our projects.  (Told you it was a roller-coaster experience this year!) I hope more alliances like this can be formed and more teams can get the help they need to finish their projects. If you thought you should come this year but experienced hurdles, obstacles and trials that tried to prevent you from attending (almost everyone who attended said they faced some kind of trial or difficulty in getting there), it's because this is a really special conference where the Holy Spirit works powerfully among a unique body of believers, and there are dark forces in this world that do not want us to experience that spiritual revival that happens at CGDC every year. If you didn't make it this year (or even if you did), and if Jesus doesn't come back before then, make plans to attend next year! It really is important.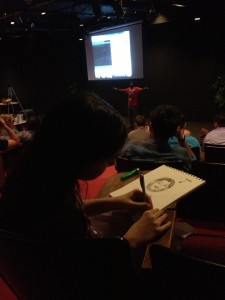 We all come for different reasons, we have different gifts and talents, and different things we can contribute to the industry. Some are game industry veterans with some amazing stories to tell. Some are just breaking into the industry. Some are students exploring their options, trying to figure out if there is a place for them to fit in. Designers, artists, programmers, musicians, filmakers, and pastors all have a place in this conference, they all have something valuable to contribute. It's great to see everyone talking about the different ways they can contribute to the industry or ministry in their own unique way. I hope to see you there next year.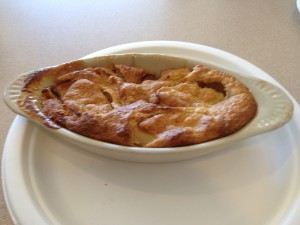 Oh, and not to be trivial, but the chef on campus this year was awesome. He remembered me on the first day when I said I was allergic to cinnamon and on the last day he made me this special peach cobbler with no cinnamon! Yes it tasted great. But even moreso… he remembered me and made this special for me. That doesn't happen very often, especially not in a cafeteria setting. Thank you chef!