The big patch with the new game content and 2 new zones is live and ready for play on the server!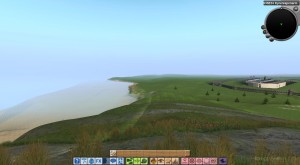 Following are the patch notes, which are also posted in the client updater.
Visions 0.2.22 (7-14-2015)
This is our big patch on the new server! The one we all have been waiting for!
CGDC (the Christian Game Developer's Conference) is July 16-18 in Portland, Oregon. Look for us in-game during the conference! We will be allowing attendees to run around the game world at our Expo table during the conference breaks and expo times.
– We've begun the process of adding 2 new zones to the East end of Cyprus, which completes the circumference of the island.
– There are a total of 6 zones available now.
– The 2 newest zones are mostly ocean area, and presently they are in a very raw state. You will get to see them as we see them as developers, in the second stage of terrain editing. We edit the entire terrain by hand. We have the zone edges blended so people should be falling through the world at the seams, but the bulk of the terrain in the new zones has only been given a rough outline, and is not smoothed or painted yet. The water has not been placed in them yet. Should make for some fun mountain climbing or games of hide and seek though. ;)
– We are very excited that we have a new server powerful enough to handle this extra terrain now. We hope you are excited too and enjoy running around the 12km x 18km terrain that we have loaded into the zone. We've got placeholder buildings for some of the new cities. Hopefully you'll take some time to find them all.
– The forestation on the edges of the zones doesn't match on both sides in all locations. We are aware of this. We will fix it in a future update.
– Melee combat works now, try using your sword.
– We have implemented one of the new Visions toolbars. Eventually these will replace the Bigworld toolbars, but for the moment we have left in the demo toolbars for developer demo functionality.
– The recipe window should work a little bit better now. Still not to the point of functionality we want it to be, but hopefully it works well enough for you to find the recipes you are looking for.
We hope you have fun in the Vision alpha test client, and we hope to see you online this weekend while we have CGDC attendees checking out the game at our Expo table!