The Christmas patch is finally complete and the play server is back up again! Special thanks to our IT Guru for getting a backup server working after our main server died so we could continue development. And Special thanks to our Lead Programmer who patiently and diligently worked through all the road blocks and unusual problems that developed every step of the way while trying to release this Christmas update. We encountered numerous problems along the way but the important thing is that it's working again, and it's working in time for Christmas even!
Please log in and come play with us. Bring a friend!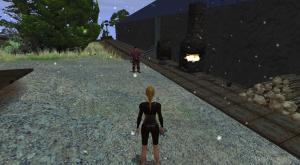 If you haven't gotten your own copy of the Visions Alpha client, please see our store page. http://store.tinyzoo.com/visionsalphadownload/ After payment is complete you will be sent an email with a download link to the client. We are entirely dependent on donations and contributions from our store to sustain development of Visions. If you like what we are doing here, please donate, or buy a copy of Visions for a friend!
See the patch notes in the updater for more information about what's new in this patch. 2 new tradeskill tools are working. We think you'll like it!
Merry Christmas!
December 17, 2014 Comments Off
A few people have asked us what this is?
Most people have never heard of an opportunity to add their own message to a statue or brick or paver in a game.  This concept is so unusual in the game development world that when we tried to explain it, people still weren't sure what we meant. If a picture is worth a thousand words then a video ought to be worth ten times more, so we decided to make a video showing the sale items in the game.
Christmas 2014 Affiliate Item sale for In-Game monuments

The Affiliate Item program is an opportunity to buy placement of a monument in the Visions game world, and put a custom message on the monument. Bricks and Cobblestones have the message engraved on them so the message must be short, but it is enough for the name of a business, a word of encouragement, or a person's name and epitaph. The statues can have a longer message on them because we place an infopoint in front of the statue that displays the message to the player. The infopoint can be the default yellow letter "i", or it can be a red heart, or it can be a small wooden cross, or it can be invisible so that only the message is visible, and not the info point itself. The messages must be approved by the development team, but they can include a business name, a poem, a short (one paragraph) story, a favorite scripture, a memorial eulogy to a loved one, or a word of encouragement to players. We have three of these items on sale for the Christmas event, the Cobblestone, the Madonna, and the Angel. The sale on these items ends December 8th, so if you would like to take advantage of these special introductory prices, get them now!  What would you like to see on your monument?
We've been preparing the game world for the Christmas patch for a few months now. We have a new gift item for you to unwrap this year. The cities are all decorated with (modern) traditional Christmas decorations. And it's snowing! However, due to deaths in the family, as well as some severe technical difficulties with the server we were not able to get the new tradeskill items in that we had hoped to complete, but some of the prep work for them has been done so they will be able to be added soon in the next few months. We hope you are looking forward to these new features as much as we are.
Some of the things that you will be able to do in the Christmas event patch include:
Open presents (with the default staff or the candy cane staff)
Find all the Christmas info points
Have snowball fights with the candy cane staff
Catch baby chickens with the net
Use the Recipe Book to learn recipes to use in the tradeskill tools
Use the Olive Press to get olive oil
Use the Still to make perfumes and ointments
Use the Well to get water
Harvest trees for wood and resins
Harvest rocks for gems, ore and gold nuggets
Harvest corn
And of course you will still be able to meet up with your friends online, talk to them, pray with them, ride horses, eagles, and dolphins with them, explore the game world with them, and have fun with them!
Thank you for supporting Visions.
Merry Christmas!
December 6, 2014 Comments Off