Just in time for CGDC, the summer patch for Visions alpha is live and available for play on the test server. If you have am account already please update and log in. There are about 21k files in the patch, which includes an entirely new zone and 2 working tradeskills!  Anticipate less than 2 hours (maybe as short as 1 hour) for the patch on high speed broadband.  (As usual, if you get disconnected, just start it up again and it will pick up where it left off.)  If you don't have the alpha client yet, you can get it from our store over here:
http://store.tinyzoo.com/visionsalphadownload/
For those who are installing it new for the first time, there are 67k files to download and it takes about 3 hours to patch a full install. Your download times will vary depending on the speed of your internet connection.
The Olive Press and the Still are both working now. The Still works with multiple recipes. Both tradeskill tools use a bottle or amphora of some sort in the recipes. Since the Pottery wheel is not working yet we have provided the bottles you need at the Master's House available to be picked up. Other ingredients will need to be collected from various locations around the world. Look for green olives, frankincense resin, myrrh resin, and corn for the recipes. They are needed in various quantities depending on the recipe.
Have fun! And thank you for your support.
God bless you.
-The Visions Team
July 22, 2014 Comments Off
It's been a while since you've heard from us. We've been working on the game instead of working on the website. We hope you will like what we've been doing. If you have been following us on Facebook you already know that we've been working on adding a new zone. We have it imported to the game world now! It's live on the development server. It will go live on the play-test server in the next update. This is really exciting because it adds another 6 KM of terrain for you to explore. The cities haven't been built on it yet, that will take some time. But you'll get to see the land space we have to work with and run around in the new open spaces. This zone has a lot more open space to run in too! A huge valley to run across, and a rocky coastline to explore. You'll access this zone either from Soloi or from Idalion following the paths. Or you can slide down the snowy mountains from Tamassos into the valley below.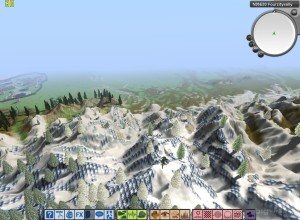 Here is a shot of the new zone from a high aerial view.  All 4 zones are visible in this picture. We hope you're looking forward to this as much as we are.  This will be the last zone we are able to add to the game world until we are able to obtain additional servers. The memory is maxxed out now with the 4th zone added. Just two more zones and we will be able to complete the entire island of Cyprus in the game world.
We hope you are enjoying playing in the Alpha. Thanks for your support!
June 23, 2014 Comments Off