Did you enjoy the Winter patch? Rumor has it that it's going to be an early Spring. It's time for us to take down the Christmas event and patch in the next update. We'll be doing that in the next few days. We've got some new features ready for you to test out! Be on the lookout for new merchants. Some of them may not have any items available yet, but most will. The fix for the stone ingot mold is going in to the next patch also. We've got a new item going too, a Mackerel. The back end features we're working on aren't done yet due to real life taking away volunteer time from our developers. Please be praying for us, many developers are facing a variety of challenges. Our God is greater though, and we know He is faithful.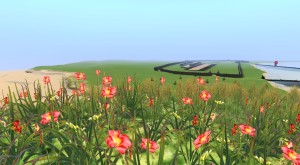 We also updated the YouTube channel this month. Did you find us by clicking a link on a YouTube video? Thank you for coming to visit our website! If you're looking for a way to support our efforts we have a few options for you.
Make a one time contribution of $30 and download the game client to log in and play. http://store.tinyzoo.com/visionsalphadownload/
Become an Active Supporter with a monthly donation of $50 or more and get a real ancient Roman coin along with your access to the Visions client. http://www.visionsgame.com/active-supporters
Become an Affiliate Sponsor when you choose one of these website or in-game options for your business, church Youth Group, club, organization, or personal Memorial. http://www.visionsgame.com/affiliates
You can connect with the Visions game community on our Facebook page also. News about emergency patch events, and other random things that aren't quite blog-worthy (but still interesting), or that are very momentarily relevant are posted there. You can also see pictures we've uploaded in the past in the photo archives on that page.
*Note* All contributions to the Visions game development team are non-refundable and non-tax-deductible. It may be possible for businesses to get a Marketing deduction on their taxes when they become an Affiliate Sponsor and choose one of the packages on this page. Please consult with your tax specialist for more information.
February 3, 2016 Comments Off on February patch coming soon!
We posted a small patch last night. The fall quests are gone and the Christmas presents are back for a short time. Log in to get your presents!  Merry Christmas!
If you don't have access to the Visions Alpha test server client yet, you can contribute here to gain access. http://store.tinyzoo.com/visionsalphadownload/
Makes a fun last minute download gift for your Christian gamer friends too!
Patch Notes for December 21, 2015
-New Masters House model. With this model the draw calls per instance of this model have been reduced from 10 to 2. It now utilizes the shell system to help with occlusion.
-New Hovel houses. The draw calls on these houses has been reduced from 4 to 1. They now also utilize the shell system as well. Currently only the exterior is ready as we noticed some rotational issues with the interiors during testing. We hope to have those interiors ready in the next patch.
-Removed outdated quests.
-Terrain painting and adjustments on going in the starter area to help with performance and overall look.
-Work on laying out the rest of the rivers has begun. We are currently messing around with using animated textures so some optimizing may still be needed.
-New harvestable entities, and spawner system for harvestable has been implemented. This system allows us to spawn a set number of harvestables over a large area while still keeping performance in check.
-Skills UI has been added for the skill system. The UI is functional and we do have skills in the database, but the ability to learn, and use has not yet been added.
-Backend work on tools for the quest system to allow designers to create and edit quests without having to write them by hand.
-Updating the account system. Most of the work is behind the scenes so players should not see any difference yet. The work on the account system is to allow us to tie it into the website and manage accounts their instead of directly in the database.
-Updated the navmesh in some zones to accommodate some of the new terrain and model changes.
Please keep us in your prayers. Thank you.
December 22, 2015 Comments Off on Merry Christmas!