Happy Valentine's Day!
We are releasing a quick patch today with some fun new activities for our Alpha supporters to play with!  It is now possible to make pottery from start to finish!
Collect the clay.
Put it on the pottery wheel.
Mix up some paints in the Mortar & Pestle.
Paint the pottery and fire it in the Kiln.
Many of the pieces can then be used in oil and perfume recipes as well!
Make an ingot mold to use in the Forge to melt ore into ingots as well.
Of course we have many Spring themed info-points placed around the world as well, identified by heart shaped markers. We hope you have fun finding all the different messages in the game.
We added this Cadmium Red amphora just for this special event. You can make one too! We hope that this patch is a lot of fun for the people who like to do tradeskills. If you still need to get access to the Visions alpha client, you can order it online right here. http://store.tinyzoo.com/visionsalphadownload/
Just for this event only, we have placed a full set of all the crystals needed to be able to make pigments for painting the pottery. It is also possible to collect them from smashing rocks found throughout the game world. In the live release we will not have a row of crystal available near the kiln, you'll have to collect them all yourselves, so enjoy the developer cheat just this once!
To open your recipe book, press Ctrl-R and click on the different scrolls to open the recipes. Click on the sides of the scrolls to move from one page to next in a set.
Hope to see you in game in Visions!
February 14, 2015 Comments Off
The Christmas patch is finally complete and the play server is back up again! Special thanks to our IT Guru for getting a backup server working after our main server died so we could continue development. And Special thanks to our Lead Programmer who patiently and diligently worked through all the road blocks and unusual problems that developed every step of the way while trying to release this Christmas update. We encountered numerous problems along the way but the important thing is that it's working again, and it's working in time for Christmas even!
Please log in and come play with us. Bring a friend!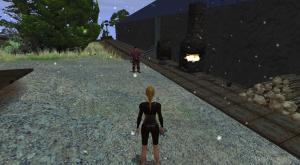 If you haven't gotten your own copy of the Visions Alpha client, please see our store page. http://store.tinyzoo.com/visionsalphadownload/ After payment is complete you will be sent an email with a download link to the client. We are entirely dependent on donations and contributions from our store to sustain development of Visions. If you like what we are doing here, please donate, or buy a copy of Visions for a friend!
See the patch notes in the updater for more information about what's new in this patch. 2 new tradeskill tools are working. We think you'll like it!
Merry Christmas!
December 17, 2014 Comments Off